February 23, 2018
Million-Dollar Gift From Alum Launches New Scholarships For Michigan Ross Students
Mike Jandernoa, BBA '72, and his wife Sue have given a $4.3 million gift to the University of Michigan.
$1 million of the gift will establish a scholarship fund at the Stephen M. Ross School of Business, with the rest going towards efforts to improve math proficiency of Michigan children through a partnership with the University of Michigan.
The scholarship fund will offer need-based scholarship awards to incoming Michigan Ross undergraduate students.
"The Ross School aspires to develop business leaders who will challenge the present and enrich the future for the benefit of all. This very generous commitment from the Jandernoas helps to ensure that the most talented students—regardless of financial means—are able to achieve this aspiration," said Scott DeRue, Edward J. Frey Dean and Stephen M. Ross Professor of Business at Michigan Ross.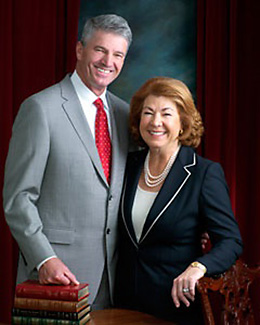 The rest of the Jandernoa's gift will benefit TeachingWorks at the School of Education and expand fellowships at the Gerald R. Ford School of Public Policy.
Most of the Jandernoas' donation, $3 million, will be used to expand a TeachingWorks partnership in Grand Rapids focused on preparing and coaching teachers, particularly in mathematics education.
TeachingWorks is a national organization based in the School of Education and is dedicated to raising the quality of entry-level teaching and the learning of students in beginning teachers' classrooms.
With this gift, the Jandernoas wish to better prepare Michigan teachers and enhance students' mathematical capabilities, ultimately improving the number and quality of jobs.
In addition to their most recent donation, the Jandernoas have been exemplary donors and volunteers at U-M, giving more than $10.4 million in support of athletics, financial aid, the Medical School, and more.
Beyond philanthropic support, they have lent their time and expertise as chairs of the Victors for Michigan Campaign Steering Committee, the West Michigan Campaign Leadership Council, and numerous advisory groups across campus, including Sue Jandernoa's 10 years on the School of Education Dean's Advisory Council.
In 2007, Mike Jandernoa received the David B. Hermelin Award for Fundraising Volunteer Leadership — U-M's highest honor bestowed upon donors and volunteers.