Dividend Spring 2015
Positive Business + The Bottom Line
BY TERRY KOSDROSKY
Much more than a "feel-good" fad, positive business is a powerful management technique that can improve profits, workplaces, and society.
It's easy to dismiss certain terms as the latest catchphrase or management theory.
So some are skeptical when they hear about positive business, relegating it to the "feel-good" flavor-of-the-month file.
In reality, positive business is not a fad. Instead, it's a powerful business tool that cuts across functions to improve outcomes and create value for shareholders, employees, and society.
The way companies and organizations undertake positive business can take a number of forms, but it often requires a new way to think about leadership and the complex ways organizations interact with customers, suppliers, co-workers, and shareholders.
Research shows it's worth the effort — companies who get it right perform better financially, have more engaged employees, and are better corporate citizens.
The Michigan Ross community connects the dots between this idea and practice. Faculty have studied positive business in different functional areas and confirmed the results. Alumni put it into action. Students think about the next steps.
This is how positive business works and flows across functions to improve employee engagement and the bottom line.
---
At Michigan Ross, it means:
Creating economic value —  for customers, shareholders, and society
Creating a great place to work
Being a great neighbor in the local community, the nation, and the world
---
Positive Supply Chains
For the most part, business-to-business supply relationships are transactional — quality, price, and delivery terms are set, and may the best bidder win.
But that model has gotten some companies in trouble with shoddy products or, worse, when a supplier does something unethical. Customers and shareholders are also starting to hold companies responsible for the working conditions and environmental impact of activities in the extended supply chain.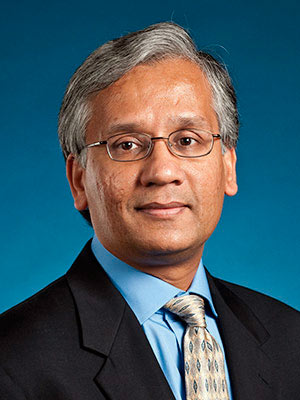 To Professor Ravi Anupindi, faculty director of the Ross Master of Supply Chain Management Program, a positive approach to supply chain changes the game in everyone's favor.
"In most places, supply is still a take-it-or-leave-it business transaction," says Anupindi, professor of technology and operations. "But you should think of the value you're creating and how you share that value with the other party so you're in a symbiotic relationship and not an exploitative one."
Take Knights Apparel — which makes Russell and Alta Gracia clothing — as an example. It's a growing market leader in college apparel that puts a focus on a positive supply arrangement.
Knights Apparel found out what it takes for employees of its Dominican Republic factory to earn a living wage for a family of four and pays that amount. It's three times the Dominican minimum wage.
"It's a lot more than a feel-good story. They have better employee retention, higher quality, better productivity, and the company has the No. 1 market share position in college apparel without running a single paid advertisement."
Indian agribusiness giant ITC Ltd is another success story. It worked with rural farmers to help eliminate their barriers to market access in a way that made financial sense for both parties. It took time, but the result was more financially secure supplier-farmers, and better access to farms with higher quality produce for ITC.
"The long-term value of that kind of relationship is tremendous," Anupindi says. "ITC buyers have a larger license to operate in those areas because of that trust. And the ITC employees — several of whom are commodities traders — are energized. They told me they like working there because they see the positive effect they're having on the lives of farmers at the other end of that deal."
Anupindi says some of the reluctance to create a positive supply chain lies in the fact that it takes time and patience. You have to take time and understand your suppliers' needs and customers' needs on a deeper level.
But more and more companies are showing it's worth the effort.
"It requires a lot of patience, frankly," he says. "They don't know where to start. But you can look at the ITC case, where they had an idea of the need, and tried some ideas to see what worked. Once they found out, they worked on a plan to scale it. People are scared of new ideas. So start small, run some pilots, and scale what works."
---
Open the Books for Better Business
Is it possible to get your front-line staff to see every transaction like the CEO would?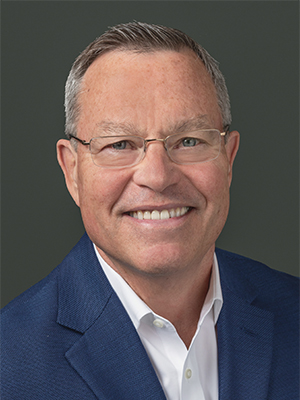 It seems so, and it has huge benefits. Professor Wayne Baker has studied how employees at some top companies have fully connected how their job drives the numbers — an awareness that gives everyone a clear sense of mission and produces better results.
It's a practice known as open-book finance and is used by more than 4,000 companies around the world, including Southwest Airlines, Harley-Davidson, and Whole Foods. Baker has researched open-book finance at several organizations and published a related case study.
"There's always this assumption that finance exists 'out there,' disconnected from operations and disconnected from sales and marketing," says Baker, Robert P. Thome Professor of Management and Organizations. "An interesting question to ask is: Who creates the financial numbers in your organization? The answer you usually get is the CFO or accountants. But the truth is that everyone is creating the numbers. Everyone takes action that affects those numbers."
The National Center for Employee Ownership found in a study that companies using open-book finance grew faster than their competitors, and Denison Consulting found that open-book companies ranked in the 92nd percentile on 12 work culture indices.
Ross alumni may have fond memories of Zingerman's Deli in Ann Arbor, known for its giant sandwiches and artisanal food. Their reputation as a national leader in positive business is equally as impressive. It's been named The Coolest Small Company in America by Inc. magazine and America's Top Independent Retailer by Gourmet Retailer magazine.
Zingerman's Community of Businesses has credited open-book finance with helping fuel both its sales growth and employee engagement. It took some trial and error, but Zingerman's found that open-book finance reduced stress on management, gave employees more ownership of their jobs, led to better day-to-day decisions, and gave the company resiliency during the recession.
Implementing open-book finance is more than letting employees see the financial statements. When done right, it links financial outcomes with the individual operations that create the numbers. It actively connects the macro to the micro, and anyone can learn it.
How does it work? Start small, Baker says. Get people thinking about business as a great game, where everyone knows the rules, has a stake in the outcome, and enjoys a collective reward if the game is won. Some companies enjoy success starting with mini-games to solve particular problems.
It's also a good idea for a company considering open-book finance to visit or learn from companies that have run it.
"When an 18-year-old new employee knows all of the key metrics of the business as well as the CEO, you can expect an extraordinarily energized workplace and better results," Baker says.
---
Using the Law for a Better Workplace
Business law is often viewed as being focused on regulation and compliance, but a positive approach helps businesses find cutting-edge ways they can help employees be healthier and financially secure, says Dana Muir, Arthur Thurnau Professor of Business Law. Take, for example, wellness plans. It's an area where business law intersects with creating a great place to work, healthier employees who are more productive, and lower healthcare costs for the company and society.
"The trend now is to look for areas in the law that permit companies to do things they're not doing and would be positive," says Muir, an expert on employee benefits. "Where the law imposes unnecessary speed bumps, there may be an opportunity for business to advocate for improved policy. A positive approach is one that looks for the possible and opportunities to build value."
Muir is involved in a big-picture project now aimed at improving retirement security for workers while also helping developing countries fund much-needed infrastructure projects. Muir sees this project with the World Economic Forum as a way the law can create better outcomes for employees, their companies, and society.
She's working with global executives in finance, law, investment, insurance, and top academics to create retirement savings products that provide the right risk and returns while facilitating needed infrastructure investments. The WEF Global Agenda Council she's working with has a tall order to tailor such products to fit company needs, employee needs, and regulations.
But the payoff would be the kind of positive action the law should enable.
"This hits all of the goals of positive business — economic value, great places to work, and helping society," Muir says. "There's a lot of brainpower from a variety of viewpoints working on this. Personally, I've never been as energized working on a problem as when we all first got together in the fall."
---
Driving the Right Decisions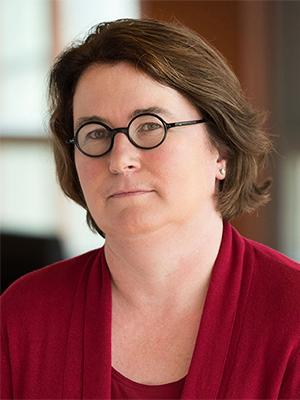 Too often people think the function of accounting is just generating numbers. But Professor Cathy Shakespeare says the real goal of accounting is driving good decisions about resources.
Accounting isn't a behind-the-scenes aggregation job.
Accountants need to think about the critical role they play in driving companies in a positive direction, Shakespeare says. The information they gather and present to senior management — whether at a Fortune 500 company or a nonprofit — is the basis for decisions on where to spend time and money.
"Accounting is very much a people business," says Shakespeare, professor of accounting and faculty director of the Master of Accounting Program. "That sounds counter-intuitive, but accountants spend much of their career talking to people, getting the right information from them, and understanding that information. If the people they're talking to are conflicted, they have to guide them to the right choices and be aware of their ethical and fiduciary duties."
Shakespeare sees her role as shaping the next generation of accountants to think about this complex world and not only act ethically, but to think about how their work shapes positive corporate actions and society.
That's especially true on the regulation side. More senior accountants often get to work on policy and rule-making. Shakespeare exposes students to the policy process so they think about the impact of regulation beyond trying to fix the last financial crisis.
"The world is not siloed and black and white," Shakespeare says. "It's very complex and integrated, and that's what we're sending them out to. I think showing them their role in decision making, ethics, negotiations, and regulation helps them make the right decisions amid that complexity. I want you to think about the implications of your decisions not only on the profession, but on society."
---
The Power of People
Companies are often seen as monolithic entities, but what makes them work — or not work — are people.
Elana Weil, MBA '15, saw proof of this when she helped create the Positive Business Project for the inaugural Positive Business Conference at Ross in 2014. The winning company, UAE Exchange, saw double-digit revenue growth after launching a program designed to boost high-quality connections among employees. The idea was that if employees at the foreign exchange firm gave their best to each other, they'd give their best to customers. It worked.
"Positive business isn't this fluffy thing written about in journals," Weil says. "They're tools that have been proven to improve business outcomes. I saw how it pulled this financial company out of the recession and kept their employees engaged and loyal."
Rebecca Beagan, BBA '13, says even small, individual actions can make a difference. The junior consultant at Roland Berger's Detroit office brought positive practices to her workplace with something she learned working with the Center for Positive Organizations at Ross — sugar cubes.
She suggested people tag each other on the company's internal web portal to send thank-yous, encouragement, or acknowledgements.
"It's a small idea but it motivates people, keeps them engaged, and that creates resiliency," she says. "Sometimes little things go a long way."
Another change she helped spark was to enhance a monthly conference call that focused on learning tutorials to also include an update on the overall business, a celebration of accomplishments, and identification of new challenges. The team had sent a feedback survey to facilitate a co-creative change.
"Now people are more informed about the work and how they fit into the picture," Beagan says. "You can tell when you have a team that's thriving vs. one that's burnt out and unsustainable. When you have these positive values and actions and feel you can effect change, you decrease turnover, have better employee engagement with the business, and that finds its way directly to the bottom line."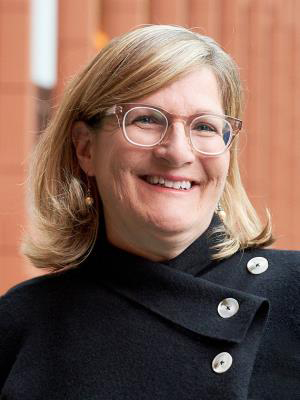 Research backs that up. Professor Gretchen Spreitzer found that employees who felt they were thriving showed 16 percent better overall job performance and 125 percent less burnout than their peers. They were 32 percent more committed to the organization and 46 percent more satisfied with their jobs.
Weil, who saw some poorly run operations in her previous career, is eager to bring positive business practices to her new job after graduation — healthcare consulting. She's seen too much evidence of the real results from positive business.
"If you have two competing businesses and both have smart leaders, which one do you think will win — the one with a mediocre work culture or the one where employees all know the goals and have a stake in the outcome?" she asks. "And which one do you want to work for?"
---
Is Business For The Public Good a Fad? - 60 Seconds in the C-Suite