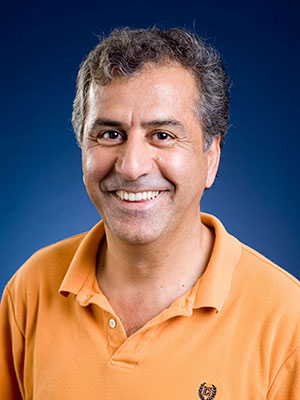 Nejat Seyhun
The Jerome B. & Eilene M. York Professor of Business Administration
Professor of Finance
Education
PhD University of Rochester 1984
MS University of Rochester 1981
BSEE Northwestern University 1976
Nejat's research activity focuses on backdating of executive options, risk-return trade-off in asset prices, intra-day impact of insider trading, long-run performance of IPOs, managerial overconfidence, Chinese walls and conflicts of interest in securities firms, option pricing, and conflict between information efficiency and rewards to information gathering. His backdating work with M.P. Narayanan has helped uncover one of the biggest corporate scandals of recent years, bringing to light a business practice with numerous legal, ethical and corporate governance implications.
H. Nejat Seyhun is Professor of Finance and Jerome B. and Eilene M. York Professor of Business Administration at the University of Michigan, where he has twice served as the chairman of the finance department. He holds a Ph.D. in finance (1984) and a master's degree in applied economics (1981) from University of Rochester, Rochester NY; and a bachelor's degree in electrical engineering (1976) from Northwestern University, Evanston, IL. Professor Seyhun has taught in MBA and Ph.D. programs, as well as executive education seminars at the University of Michigan since 1983. Professor Seyhun also served as the academic director of the Financial Engineering program at the University of Michigan from 2005-2014.

Professor Seyhun worked briefly as an electrical engineering prior to receiving his Ph.D. His previous academic appointments as a visiting professor include University of Rochester (lecturer), University of Chicago, Koc University (Istanbul, Turkey), and Wissenschaftliche Hochschule fur Unternehmensfuhrung (WHU) (Koblenz, Germany). He has also given executive education lectures in Bangalore, Bangkok, Brussels, Dubai, Hong Kong, Istanbul, Jakarta, London, Moscow, Paris, Riyadh, San Paolo, Singapore, Taipei among other places.

Professor Seyhun's current teaching interests are in the area of commercial and investment banking, corporate finance, and investments. He has published a book about the investment implications of insider trading, entitled "Investment Intelligence from Insider Trading" (MIT Press, 1998, 2000). His current research projects include market efficiency, conflicts of interest in securities firms, pricing of index options and stock price momentum, intra-day stock price reaction to insider trading. Professor Seyhun's academic articles have been published in Journal of Finance, Journal of Business, Journal of Financial Economics, Quarterly Journal of Economics, Journal of Law and Economics, and Journal of Financial and Quantitative Analysis, among others.

Professor Seyhun's research has been quoted frequently in the financial press including the Wall Street Journal, New York Times, Washington Post, Newsweek, Business Week, Bloomberg Business News, and Los Angeles Times. Among his consulting clients are Citigroup, Towneley Capital, Tweedy, Browne, and Vanguard. Professor Seyhun has also worked as an expert witness and consultant to the Federal Bureau of Investigation (FBI) and U.S. Justice Department in insider trading cases.
Should Size Matter When Regulating Firms? Implications from Backdating of Executive Options
Source
New York University Journal of Legislation and Public Policy
Fraud on the Market: Analysis of the Efficiency of the Corporate Bond Market
Source
Columbia Business Law Review
How Do Quotes and Prices Evolve Around Isolated Informed Trades?
Source
Journal of Economics and Finance
Intraday Behavior of Stock Prices and Trades around Insider Trading
Source
Financial Management (FM)