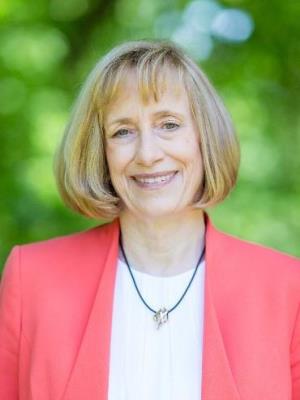 Sue Ashford
Michael & Susan Jandernoa Professor of Management and Organizations
Education
PhD Northwestern University 1983
MS Northwestern University 1981
BA San Jose State University 1977
Susan (Sue) Ashford holds the Michael and Susan Jandernoa Professorship in Management and Organization at the Ross School of Business, University of Michigan. She was previously on the faculty of the Tuck School of Business at Dartmouth College and received her MS and Ph.D. degrees from Northwestern University. She served as the Ross school's Senior Associate Dean from 1998 – 2002, the Associate Dean for Leadership Development Programming from 2007 – 2010, the faculty director of the Executive MBA program from 2002 - 2012,  and the Area Chair for the Management and Organizations group from 2014 - 2021.
Sue has made research contributions in the areas of leadership development and leader effectiveness, middle management voice and issue selling, job insecurity, and individual proactivity (e.g., self-management and feedback seeking). She is currently researching how to thrive in the gig economy. Her research has been published in a variety of outlets, including the: Academy of Management Review, Academy of Management Journal, Administrative Science Quarterly, Strategic Management Journal, and the Journal of Applied Psychology. Her research has been summarized as advice for managers in the Harvard Business Review, the Harvard Business Review blog, the Washington Post, and New York Magazine. Sue has served as an Associate Editor for the Academy of Management Journal and currently serves on its editorial board. In 2002, Sue was named a Fellow of the Academy of Management, recognizing the top 1% of scholars in a world-wide professional association of nearly 20,000 professors and practitioners interested in improving management scholarship, education, and practice. The Academy of Management also awarded her the prestigious Career Achievement Award for Distinguished Scholarly Contributions to Management in 2017. In 2020, Sue won the Lifetime Achievement award offered by the Organizational Behavior division of the Academy of Management and was also named the Ross school's researcher of the year. Sue and her team won the inaugural visionary circle research grant offered by the Society of Industrial and Organizational Psychology.
Sue's passion is using her teaching and research work to help people to be maximally effective in their work settings, with an emphasis on self-leadership, proactivity, change from below, and leadership and its development. She teaches at the Ross School, focusing on negotiation skills in the Executive  and online MBA programs, and Is the faculty director for the Emerging Leaders Program in Ross' Executive Education portfolio. She also teaches in Two programs aimed at accelerating careers for women: Ascending to the C-suite program for Inforum, a professional organization committed to Women's careers in Michigan and the Leading Women Executives program in Chicago.
The Power of Flexing: How to Use Small Daily Experiments to Create Big Life-Changing Growth
Source
Harper Collins Business
The Power of Flexing: How to Use Small Daily Experiments to Create Big Life-Changing Growth
Source
HarperCollins Business
Proactive Feedback Seeking: The Power of Seeing Yourself as Others See you.
Source
Best Practices for Experience-Based Leadership Development.
Job insecurity and the changing workplace: Recent developments and future trends in job insecurity research.
Annual Review of Organizational Psychology and Organizational Behavior
Morgeson, F.
Issues Selling: Proactive Efforts Toward Organizational Change.
Proactivity at Work
Parker, S. & Bindl, U.
Assuming the mantle: Unpacking the process by which individuals internalize a leader identity.
In Exploring Positive Identities and Organizations: Building a Theoretical and Research Foundation
L. M. Roberts & J. E. Dutton
Speaking up and speaking out: The leadership dynamics of voice in organizations.
Source
Emerald group publishing Ltd.
Voice and Silence in Organizations
J. Greenberg and M. S. Edwards