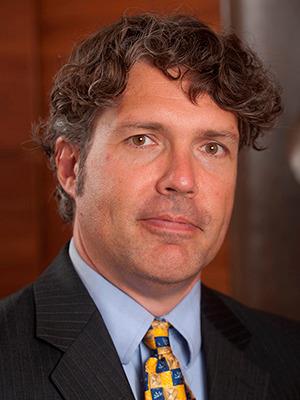 Greg Miller
Ernst and Young Professor of Accounting
Chair of Accounting
Clyne Crawford Teaching Fellow
Education
PhD University of Michigan 1998
BS Miami University 1990
Gregory S. Miller is a Professor at the Ross School of Business, University of Michigan. His research focuses on financial communication; that is, how information moves through financial markets. His investigations include studying managers' attempts to communicate their view of the firm to stakeholders outside the firm as well as understanding how firm attributes and market structure impacts the effectiveness of managerial communication.

Greg's research has been published in top peer reviewed journals such as The Accounting Review, The Journal of Accounting and Economics, and The Journal of Accounting Research. He has presented at over 70 academic institutions and conferences. His work has also been published in practitioner journals such as Harvard Business Review and Investor Relations Quarterly. He has been a key note speaker at numerous practitioner conferences in the US and Europe and was the focus of two CNBC Asia specials. Professor Miller has authored over twenty cases and sold over 100,000 copies. They have been taught at top global business schools including Michigan, Chicago, Harvard, Stanford, Wharton, INSEAD and the University of Peking. Greg has been quoted or cited in a numerous popular press publications including The Wall Street Journal, Financial Times, U.S. News and World Reports, Business Week, Fortune, the International Herald Tribune, CFO magazine, IR Magazine, The Detroit Free Press, The Washington Post, NPR Marketwatch and Morgunbladid.

Greg has been an Editor at The Accounting Review and an Associate Editor (or on the Editorial Board) of The Journal of Accounting and Economics, and The Journal of Accounting Research among other journals.

At Ross, Greg teaches in the MBA core, Executive Education, the Masters of Accounting, and Doctoral programs. He previously taught in the MBA, Doctoral and Executive Education programs at Harvard Business School. He has consulted or provided executive education to a wide range of firms from around the globe.

Greg earned his PhD in 1998 at the University of Michigan. Prior to that, he earned a BS in Accounting at Miami University (Oxford, Ohio) and spent four years as an auditor in the Cincinnati office of Arthur Andersen where he earned his CPA.

Source
The Accounting Review
Source
Contemporary Accounting Research
Investor Relations and Information Assimilation
Source
The Accounting Review
Managers' Cultural Background and Disclosure Attributes
Source
The Accounting Review
Source
Journal of Accounting & Economics
Source
The Journal of Financial Reporting
Source
Journal of Accounting Research
The evolving disclosure landscape: How changes in technology, the media, and capital markets are affecting disclosure
Source
Journal of Accounting Research
"Do Analyst/Manager Relations Travel? an Analysis of Executives Changing Employers"
Source
The Accounting Review
"The Role of Dissemination in Market Liquidity: Evidence from Firms use of Twitter"
Source
The Accounting Review
Source
Journal of Accounting & Economics
Source
Journal of Accounting Research