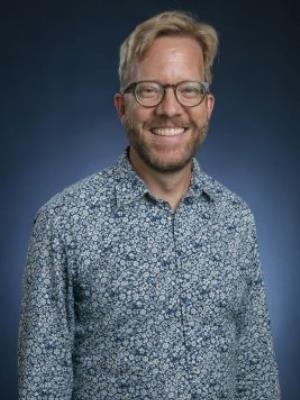 Kevin Thompson
LEO Intermittent Lecturer
---
Education
MBA Cornell University 2003
MS Cornell University 2001
BA University of Massachusetts 1995
Biography
ABOUT ME
Kevin Thompson is a Lecturer and previous Executive in Residence at the Ross School of Business.  He teaches a course he designed called InterMission, a self leadership course for students adrift in a sea of expectations who are exceptional at fulfilling goals set by others but find themselves too busy to reflect on whether they're the right thing to do. Kevin has also taught an MBA course on Social Intrapreneurship.
The goal of InterMission is to help students authentically lead themselves and others -- everyday, in ways large and small. To achieve this goal, InterMission explores personalized pursuits of purpose, perspectives on leadership styles and giving voice to values in service of a meaningful career. Established frameworks and science are woven into an engaging classroom curriculum.
The course transitions from the classroom to the field on a one-week wilderness immersion in Utah's Canyonlands with the National Outdoor Leadership School. 
Kevin's day job is serving as General Manager for GOOD Worldwide and Upworthy where he has P&L responsibility, manages the business and services teams and leads M&A and strategic growth projects. GOOD Worldwide is a leader in social impact, sustainability and engagement at scale.
Prior to GOOD Kevin was a Principal at The Crossland Group where he served as adviser to and partner with changemakers in the social enterprise and philanthropic sectors.
He spent 15 years at IBM in executive and senior management roles in marketing, global strategy, market insights, thought leadership and brand management in business units spanning healthcare, government, commerce, mobile, social and financing.
An IBM career highlight was the design, launch and scaling of the Corporate Service Corps (CSC), often called a "business version of the Peace Corps," which addresses the 21st century context for doing business – emerging markets, diverse cultures, global teaming, complex policy environments, cross functional collaboration and increasing societal expectations. 
Mr. Thompson is a First Mover Fellow with the Aspen Institute, a leadership and innovation lab for social intrapreneurs, the subject of a Harvard Business School case study and winner of a FrED Forum innovation award.  He has published on topics ranging from cloud computing to next generation leadership.  He also co-founded a leadership development consultancy called World Action Teams that designs and delivers immersion experiences in rapidly developing markets.  Kevin recently completed a six-year term as Trustee with the Ann Arbor Area Community Foundation, a $135M philanthropic organization serving Washtenaw County, Michigan. Kevin is currently a Trusttee and Vice President with the Ann Arbor Treeline, a nonprofit organization.
Prior to IBM he spent two years managing a farm and micro enterprise in rural Ghana, West Africa while a US Peace Corps volunteer and performed as a musician based in Massachusetts.  Mr. Thompson holds MBA and MS degrees from Cornell University and a BA from the University of Massachusetts in Natural Systems.  He lives in Ann Arbor, Michigan with his two boys, Nels and River.
CAREER INTERESTS
The role of business in society and how business can be a force for good.  I have an active and decades-long interest in experiential education and leadership development.
HOBBIES
My children take over most of what used to be my hobby time, but in an ideal world I would be able to practice music everyday, expand my cooking skills and explore more of the world's wilderness areas. 
HONORS
Aspen Institute First Mover Fellow - 2009
Babson College and Lewis Institute Changemaker - 2010
Guest Lecturer: Harvard Business School, Northwestern's Kellogg School, Cornell's Johnson School, Case Western's Weatherhead School and Yale's School of Management
Presenter and Featured Speaker at multiple social impact and sustainability conferences
Latest Faculty News & Research
My Life-Changing, 7-Day, Action-Based Learning Experience in the Wilderness
My Life-Changing, 7-Day, Action-Based Learning Experience in the Wilderness
Read more
An Alliance for Impact: Perspective from Michigan Ross Lecturer Kevin Thompson on GOOD Worldwide's Merger with Net Impact
Faculty News & Research,
School News
An Alliance for Impact: Perspective from Michigan Ross Lecturer Kevin Thompson on GOOD Worldwide's Merger with Net Impact
Read more