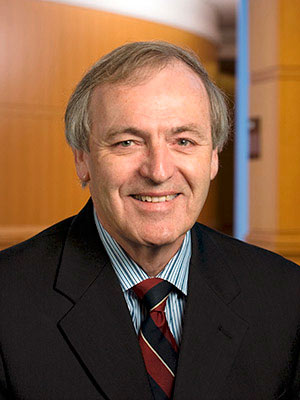 David Brophy
Director of the Office for the Study of Private Equity Finance
Professor of Finance
Education
PhD The Ohio State University 1965
MBA University of Detroit 1959
BC St Francis Xavier University 1957
BA St Francis Xavier University 1956
David's research focuses on pricing of private equity and initial public offerings of common stock and characteristics of the venture capital market. He also was the principal investigator on "Prospects for Small Business and Entrepreneurship in the 21st Century," a White House Conference on Small Business. He also directs the longest running, university based venture capital market intervention for emerging growth comanies (The Midwest Growth Capital Symposium).
Dr. David J. Brophy is Professor of Finance and a member of the Finance Faculty and the Entrepreneurial Studies Faculty at the Ross School of Business at the University of Michigan where he teaches courses in financing technology-based startups, venture capital, private equity and valuation. He also serves as Director of the University of Michigan Center for Venture Capital and Private Equity Finance (
http://www.umich.bus.edu/cvp
).
Brophy is an active researcher in the fields of finance and entrepreneurship. His current research is focused upon the study of private equity finance in a global setting, the venture capital investment and private placement process, and entrepreneurial finance. He also is founding director of two leading international private equity conferences: the University of Michigan Growth Capital Symposium (venture capital-oriented) and the University of Michigan Global Private Equity Conference (corporate growth and buyout oriented).
He is active in venture capital, private equity and entrepreneurship in the US and globally. He assists emerging mid-sized companies in managing and funding their growth.
He is author of the book
Finance, Entrepreneurship and Economic Development
, and has published a large number of research papers in this and other aspects of finance. He is a founding member of the editorial board of the
Journal of Private Equity, the Journal of Business Venturing
and the
International Journal of Venture Capital
and is currently completing a book titled
Principles of Venture Capital and Private Equity
. Brophy has twice won the National Association of Small Business Investment Companies Research Award in recognition of his pioneering research on venture capital finance.
Brophy has extensive experience in Executive Education. He was the founding director of the University of Michigan School of Banking and co-founder of the Finance for the Non- Financial Manager program. He has also served as a contributing member of the faculty of the Venture Capital Institute, a management education institute presented annually by the National Venture Capital Association and the National Association of Small Business Investment Companies to train partners and associates of their member firms.
Brophy has been a consultant to a variety of government agencies in the U.S., Australia, France, India and Russia and has served on the Governor's Commission on High Technology in Michigan. He is active in the development of policy regarding the University's role in technology transfer, entrepreneurial activity, and venture capital investment. He has been a member of the University of Michigan Economic Development Council as well as Chairman of the Advisory Committee of the Michigan Investment Fund (a venture capital investment fund).
He has served as Scholar in Residence at the Ewing M. Kauffman Foundation Center for Entrepreneurial Leadership in Kansas City, MO. Dr. Brophy has also served as consultant to the State of Michigan Task Force on Venture Capital and is a founding director of the Michigan Venture Capital Association, both of which work to create a positive environment for venture capital investment in Michigan, the Midwest and the nation. Brophy is a director of BioStar Ventures, LCC, and an advisor to Compass Technology Partners, Plymouth Ventures, LLC, Glencoe Capital, and VentureEast, LP. He is a director of Nantucket Capital, Altarum Institute, and several subsidiaries of Ally Bank. He has served as a director of Nighthawk Radiology Service, Inc., Munder Capital, and Ervin Industries, Inc.
Fostering Collaborative Research and Innovation Between Cardiac Surgeons and Engineers
Source
Journal of Cardiology
Hedge Funds: Investors of Last Resort?
Source
The Review of Financial Studies (RFS)