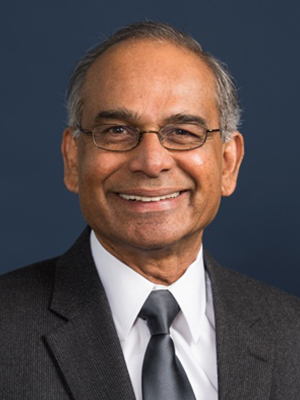 M.P. Narayanan
Robert Morrison Hoffer Professor of Business Administration
Professor of Finance
Education
PhD Northwestern University 1983
ME Indian Institute of Science 1971
BE University of Madras 1969
Professor Narayanan's current research focuses on corporate governance. In particular, his research with Nejat Seyhun has been instrumental in exposing the practice of executive option backdating. He has worked on various corporate financial topics such as corporate scope, managerial behavior, and management compensation. On corporate scope, he has written about the motives for divestitures, how conglomeration can result in inefficient capital allocation, and about the patterns of corporate diversification across various industries and over time. On managerial compensation, he has written about how various compensation schemes distort managerial decision horizons, causing, for example, managerial myopia.
M.P. Narayanan is the Robert Morrison Hoffer Professor of Business Administration and Professor of Finance at the Stephen M. Ross School of Business at the University of Michigan. Narayanan received his Ph.D. in Finance from Northwestern University. His Bachelor's and Master's degrees are in electrical engineering, and for several years he was employed as a senior design engineer. He has been at the University of Michigan since 1986 and was Chair of the Finance Area during 2003-09. He teaches corporate finance courses in the MBA and the Executive MBA programs and has been presented the student award for teaching excellence in the MBA and EMBA programs several times. He currently serves as the Faculty Director of the Executive MBA program.

Narayanan's primary research interests are related to corporate finance and include corporate governance, managerial incentives and executive compensation, merger & divestitures, and capital structure. Some of his recent publications include "Should Size Matter When Regulating Firms?" in N.Y.U. Journal of Legislation & Public Policy, "The role of profit-based and stock-based components in incentive compensation," published in the Journal of Financial Intermediation, "Dating Games: Do Managers Designate Option Grant Dates to Increase Their Compensation?" published in the Review of Financial Studies, and "The Economic Impact of Backdating of Executive Stock Options," published in the Michigan Law Review. Some of his research (with Nejat Seyhun) on executive option backdating was instrumental in the investigation of this practice by the SEC, the Justice Department, and the IRS. He has also the author of the book Finance for Strategic Decision Making.

Narayanan teaches extensively in executive education programs. He was the Faculty Director of the Finance for Non-Financial Managers program. He is also a core faculty member in several executive education programs, including the Executive Program and the Global Program for Management Development. In addition, he has taught in programs for leading multinational companies such as Citibank, Daewoo, GE, Larsen & Toubro, Mahindra & Mahindra, Precision Castparts, Shui On Land, Tata Group, and Texaco. He is actively involved in the school's international executive education programs in Asia. He has served as the Faculty Director of programs conducted by the William Davidson Institute for senior managers from emerging economies.
Narayanan has extensive consulting experience with leading companies in the U.S. and abroad.
Gender Differences in Executives' Access to Information
Source
Journal of Financial and Quantitative Analysis
Source
New York University Journal of Law and Business
The ABCD of High-Performance Organizations
Source
LDA Journal of Management
Source
New York University Journal of Legislation and Public Policy