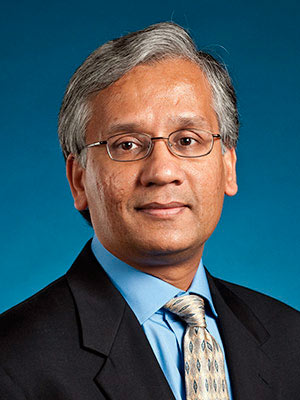 Ravi Anupindi
Colonel William G. and Ann C. Svetlich Professor of Operations Research and Management
Professor of Technology & Operations
Faculty Director, Center for Value Chain Innovation
Education
PhD Carnegie Mellon University 1993
MS Carnegie Mellon University 1989
ME Indian Institute of Science 1984
BE Birla Institute of Technology & Science 1982
Ravi Anupindi is Colonel William G. and Ann C. Svetlich Professor of Operations Research and Management at the Stephen M. Ross School of Business; founding Faculty Director of the Center for Value Chain Innovation (2017-2020); co-Director of the Technology and Business Innovation Forum (2015-18) at Ross and Chair of (UM) President's Advisory Committee on Labor Standards and Human Rights (2013-). He is a Research Fellow at the William Davidson Institute and faculty associate with the Institute of Health Policy and Innovation, Michigan GlobalREACH, Erb Institute, Donia Center for Human Rights, Sustainable Food Systems Initiative and the Center for South Asian Studies. He was the (founding) Faculty Director for the Master of Supply Chain Management Program (2008-2015). Previously he taught at the Stern School of Business, New York University (2000-2002) and the Kellogg Graduate School of Management, Northwestern University (1993-2000).

His main research areas include technology and business innovation, global supply chain management, health care delivery in low and middle-income countries, economic development, and environmental & social sustainability. His current work is focused on cardiovascular disease interventions and operational analysis of emergency response systems in India, investigations of drug shortages, effectiveness of generic drugs, and challenges of scaling COVID-19 testing. He serves as a faculty expert on a task force to look into health care supply chain and national security issues. His work has appeared in several leading journals including Management Science, Operations Research, Journal of MSOM, Marketing Science, The Lancet, and Proceedings of the National Academy of Sciences. He has authored several case studies in supply chain risk management, healthcare delivery, and sustainability; a brief summary is available here.

At the Ross school his (past / present) teaching includes Operations Management (core) and an elective classes in Strategic Sourcing, Global Supply Chain Management; Innovations in Global Healthcare Delivery; and Sustainable Operations and Supply Chain Management. He has also taught in several executive programs amd worked with several companies. Under a USAID grant, he assisted University of Johannesburg in South Africa develop a graduate degree program in Supply Chain Management. He is co-author of Managing Business Process Flows (3rd Edition), Pearson/Prentice Hall, 2011.
Dr. Anupindi was recognized as P&Q's Favorite MBA Professors from the Class of 2020 and is recipient the Ross School of Business Neary Teaching Excellence Award (2019), Victor L. Bernard Teaching Leadership Award (2019), and the CORE (Contribution to Research Environment) Award (2015). Ravi is a member INFORMS and POMS; member of the Governing Council of the Supply Chain Risk Leadership Council (SCRLC). He serves on the Board of Global Health of the National Academy of Sciences, Engineering, and Medicine; is a member of the boards of the William Davidson Institute, the Fair Labor Association, and ProjectStanley; a founding board member of the People that Deliver Initiative; and a technical advisor to Vital Ocean.

Principal to Principal Global Supply Chain Task Force: Reimagining the Global Supply Chain Post Covid-19
Source
Final Report of a commissioned task force
Source
Circulation: Cardiovascular Interventions
Source
Frontiers in Public Health
Dynamic Risk Management of Commodity Operations: Model and Analysis
Source
Manufacturing and Service Operations Management
Costing the supply chain for delivery of ACT and RDTs in the public sector in Benin and Kenya
Source
Medical Device Developments
Source
Proceedings of the National Academy of Sciences
Integrated Optimization of Procurement, Processing, and Trade of Commodities
Source
Operations Research
Creating Mutual Value: Lessons from Ventures Serving Base of the Pyramid Producers
Source
Journal of Business Research