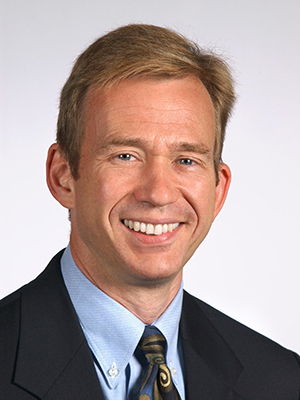 Tom Lyon
Dow Professor of Sustainable Science, Technology and Commerce
Professor of Business Economics and Public Policy
Professor of Environment and Sustainability
Education
PhD Stanford University 1989
MS Stanford University 1984
BSE Princeton University 1981
Thomas P. Lyon holds the Dow Chair of Sustainable Science, Technology and Commerce, with appointments in both the Ross School of Business and the School of Environment and Sustainability (SEAS). Professor Lyon is a leader in using economic analysis to understand corporate environmental strategy and how it is shaped by emerging government regulations, non-governmental organizations, and consumer demands. His book Corporate Environmentalism and Public Policy, published by Cambridge University Press, is the first rigorous economic analysis of this increasingly important topic. Professor Lyon earned his bachelor's degree at Princeton University and his doctorate at Stanford University. His current research focuses on corporate environmental information disclosure, greenwash, the causes and consequences of renewable energy policy, and voluntary programs for environmental improvement.
Professor Lyon has been a visiting professor at Stanford University, the University of Paris, the University of California at Santa Barbara, the University of Chicago and at the University of Bonn, and a Fulbright Scholar at the Scuola Sant'Anna in Pisa, Italy. He spent the academic year 2002/2003 as a Gilbert White Fellow at Resources for the Future in Washington, DC, and 2003/2004 as a visiting economist in the Antitrust Division of the U.S. Department of Justice. Professor Lyon serves on the editorial boards of the Journal of Economics and Management Strategy and the Journal of Regulatory Economics. His teaching experience includes energy economics and policy, environmental governance, non-market strategy, regulation, managerial economics, business and government, game theory, business strategy, and the management of innovation.
Please view the video on Professor Lyon's award winning paper, "CSR Needs CPR: Corporate Sustainability and Politics"
A Theory of Multi-tiered Ecolabel Competition
Source
Journal of the Association of Environmental and Resource Economists
Source
Dow Elements of Sustainability Video Series
Source
California Management Review
Nonmarket Strategy and Social Movements Research: What Are the Gains from Trade?
Source
Research in the Sociology of Organizations
Not a Drop to Drink? Drinking Water Quality, System Ownership, and Stakeholder Attention
Source
Research in the Sociology of Organizations
Source
Administrative Science Quarterly
Source
Journal of Environmental Economics and Management
Voluntary Cleanup Programs for Brownfield Sites: A Theoretical Analysis
Source
Environmental and Resource Economics
A Test for Corporate Sustainability Leadership
Optimizing Eco-Efficiency Across the Procurement Portfolio
Source
Environmental Science and Technology
Self-Regulation and Regulatory Flexibility: Why Firms May be Reluctant to Signal Green
Source
Advances in Strategic Management
The Drivers and Impacts of Renewable Portfolio Standards
Source
Annual Review of Resource Economics
Energy as a Driver of Change in the Great Lakes-St. Lawrence River Basin
Source
Journal of Great Lakes Research
Front Groups Play a Growing and Dangerous Role in Energy Policy
Source
US Association for Energy Economics Dialogue
The Means and End of Greenwash
Source
Organization & Environment
Greenwash vs. Brownwash: Exaggeration and Undue Modesty in Corporate Sustainability Disclosure
Source
Organization Science
Cleaner Production in Small Firms taking part in Mexico´s Sustainable Supplier Program
Source
JOURNAL OF CLEANER PRODUCTION
How Do Shareholders Respond to Sustainability Awards?: Evidence from China
Source
Ecological Economics
Revitalizing Underperforming and Contaminated Land through Voluntary Action: Perspectives from U.S. Voluntary Cleanup Programs
Tweetjacked: The Impact of Social Media on Corporate Greenwash
Source
Journal of Business Ethics
Voluntary Environmental Agreements in Developing Countries: The Colombian Experience
Capture or Contract?: The Early Years of Electric Utility Regulation
Source
Journal of Regulatory Economics
Environmental Disclosure: Evidence from Newsweek's Green Companies Rankings
Source
BUSINESS AND SOCIETY
Fragmenting Forests: The Double Edge of Effective Forest Monitoring
Source
ENVIRONMENTAL SCIENCE AND POLICY
Is "Smart Charging" Policy for Electric Vehicles Worthwhile?
Lurching towards Markets for Power: China's Electricity Policy 1985-2007
Promoting Global CCS RDD&D by Stronger U.S.- China Collaboration
Source
RENEWABLE AND SUSTAINABLE ENERGY REVIEWS
Creating a Plug-In Electric Vehicle Cluster in Michigan: Prospects and Policy Options
Source
Michigan Telecommunications & Technology Law Review
Does Public Disclosure Reduce Pollution? Evidence from India's Pulp and Paper Industry
Source
Environmental and Resource Economics
Greenwash: Corporate Environmental Disclosure under Threat of Audit
Source
Journal of Economics & Management Strategy
Strategic Environmental Disclosure: Evidence from the DOE's Voluntary Greenhouse Gas Registry
Source
Journal of Environmental Economics and Management
Source
BE JOURNAL OF ECONOMIC ANALYSIS AND POLICY (CONTRIBUTIONS TIER)
What Drives Participation in State Voluntary Cleanup Programs? Evidence from Oregon
Why Do States Adopt Renewable Portfolio Standards? An Empirical Investigation
Introduction to the Special Issue on Management Strategy and the Environment
Source
Journal of Economics & Management Strategy
Astroturf Groups
American Governance
Stephen L. Schechter
On the Profitability of Corporate Environmentalism
Source
Oxford University Press
Oxford Handbook of Managerial Economics
Christopher Thomas, Jr. and William F. Shughart II
Environmental Governance
Source
Oxford University Press
Handbook on Business and the Environment
Andrew Hoffman and Tima Bansal
Environmental Governance: An Economic Perspective
Source
Cambridge University Press
Governing the Environment: Interdisciplinary Perspectives
Magali Delmas and Oran Young
Expect the Unexpected: Building Business Value in a Changing World
Towards Sustainability: The Role and Limitations of Certification
Good Cop/Bad Cop: Environmental NGOs and Their Strategies towards Business
Source
Resources for the Future Press