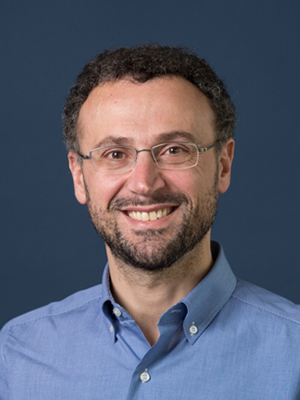 Paolo Pasquariello
Education
PhD New York University 2003
MPhil New York University 2002
MBA New York University 1998
LAUREA Universita' Commerciale Luigi Bocconi 1994
Paolo's research interests are in the areas of information economics, international finance, and market microstructure. His research analyzes the impact of important features of trading (e.g., price manipulation, information asymmetry and heterogeneity, and imperfect competition among agents) and of human behavior (e.g., agency, short-termism, loss aversion, and risk seeking in losses) on the process of price formation in domestic and international equity, government and corporate bond, currency, and real estate markets. In recent studies, Paolo has examined strategic trading in stock and bond markets, government intervention in currency and bond markets, financial crises and contagion, financial market dislocations, and the relation between firm-level adverse selection and firms' capital structure decisions. His work has received numerous professional awards and has been published in several leading Finance, Economics, and Real Estate journals. He is an Editor of the Journal of Financial Markets and an Associate Editor of the Review of Financial Studies, and was an Associate Editor of the Journal of Financial Markets. Paolo has professional experience as a portfolio manager in Italy, as a fixed income analyst for Goldman Sachs, and as a foreign exchange analyst for J.P. Morgan.
Strategic Cross-Trading in the U.S. Stock Market
Financial Market Dislocations
Source
The Review of Financial Studies (RFS)
On the Price Comovement of U.S. Residential Real Estate Markets
Source
The American Real Estate and Urban Economics Association (AREUEA) Journal
Prospect Theory and Market Quality
Source
Journal of Economic Theory
Central Bank Intervention and the Intraday Process of Price Formation in Currency Markets
Source
Journal of International Money and Finance
Does Asymmetric Information Drive Capital Structure Decisions?
Source
The Review of Financial Studies (RFS)
On the Volatility and Comovement of U.S. Financial markets Around Macroeconomic News Announcements
Source
Journal of Financial and Quantitative Analysis
The On-The-Run Liquidity Phenomenon
Source
Journal of Financial Economics
The Anatomy of Financial Crises: Evidence from the Emerging ADR Market
Source
Journal of International Economics
Time-Series and Cross-Sectional Excess Comovement in Stock Indexes
Source
Journal of Empirical Finance
Updating Expectations: An Analysis of Post-9/11 Returns
Source
Journal of Financial Markets
Imperfect Competition, Information Heterogeneity, and Financial Contagion
Source
The Review of Financial Studies (RFS)
Informative Trading or Just Costly Noise? An Analysis of Central Bank Interventions
Source
Journal of Financial Markets
Informed and Strategic Order Flow in the Bond Markets
Source
The Review of Financial Studies (RFS)
An Examination of the Asian Crisis: Regime Shifts in Currency and Equity Markets
Source
Journal of Business (JB)
Regime Shifts in Asian Equity and Real Estate Markets
Source
Real Estate Economics