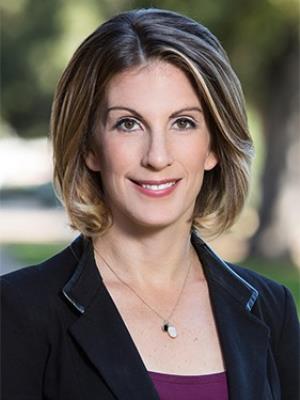 Lindy Greer
Professor for Management and Organizations
Michael R. and Mary Kay Hallman Fellow
Education
PhD Soc Org Psy Leiden University 2008
BS Economics University of Pennsylvania 2004
Lindred (Lindy) Greer is a world-renowned thought-leader on how to create high-performing teams. She is currently a Professor for Management & Organizations at Ross and the Faculty Director of the Sanger Leadership Center. Her research focuses on how to lead high-performing teams, with specific interests in leadership skills in conflict management, diversity and inclusion, power-flexing, and the communication of emotions. Lindy has published in top management and psychology research outlets such as Academy of Management Journal, Organization Science, Journal of Applied Psychology, Science, and Proceedings of the National Academy of Sciences, among others. Her work has also been covered in well-known media outlets including the New York Times, Forbes, and Fast Company. She has received awards for her research from the Academy of Management and American Psychological Association and for her teaching from Poets and Quants (Top 40 under 40 Business School Professors) and Michigan Ross (Executive Education Impact Award). She is a Senior Editor at Organization Science, has served as an Associate Editor at the Academy of Management Journal, on the boards of six of the top management and psychology journals, and on the boards of professional associations such as the International Association of Conflict Management and the Conflict Management Division of the Academy of Management.
Lindy also has 15 years of extensive experience in serving on the board of and/or advising the management teams of both start-ups and publicly traded companies. Within her work for Michigan Ross Executive Education, she regularly coaches C-suite teams on a global basis and designs and runs senior leadership development programs for some of the world's most influential companies. She specializes in creating high-performing leadership teams and entrepreneurial organizations and in leading culture transformations around teamwork, conflict management, collaboration, and diversity, equity, and inclusion. In addition to her work outside the university in supporting corporate leaders, Lindy also leads leadership development for students on the Ross campus. She has been Faculty Director of the Sanger Leadership Center since 2019. At Sanger, she oversees the stewardship of a ~$20 million endowment, an external corporate board, and an eight-person leadership team which works collaboratively with diverse stakeholders to offer over 10,000+ student touch points per year for leadership development across the university.
Lindy received her B.S. from the Wharton School of Business at the University of Pennsylvania, and her Ph.D. in social and organizational psychology from Leiden University in the Netherlands. She joined the team at Ross in 2019.
Conflict in teams
Source
Somerset, NY: Wiley Blackwell
The Wiley Blackwell Handbook of Team Dynamics, Teamwork, and Collaborative Working
R. Rico, E. Salas, & N. Ashkanasy
Power and conflict in teams
Source
Cheltenham, UK: Edward Edgar Publishing.
Handbook of Research in Conflict Management
N. M. Ashkanasy, O. B. Ayoko, & K. A. Jehn
Diversity as disagreement: The role of intra-group conflict
Source
New York, NY: Oxford University Press
The Oxford Handbook of Diversity and Work
Q. M. Roberson
Diversity and conflict
Source
Cambridge: Cambridge University Press
Diversity at Work
A. Brief